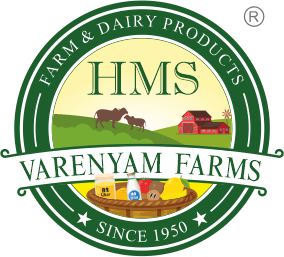 Our Story
Late Shri Manharlal Motichand Shah was a living example of the saying – A man connected to his roots will always be successful. An unmatched legacy that still lives today, words are short of describing the achievements and accomplishments of what Mr. Shah has achieved during his lifetime. HMS Varenyam Farms is not just a name; it is a dream and a home to thousands of farmers who are a part of the establishment.
In today's world of chemically & genetically, mass-produce farm and dairy products, HMS Varenyam Farms continually proves that natural farming still has its own identity. A family-owned farm located in the Valsad district of Gujarat is a piece of Mother Earth
Why choose us?
HMS Varenyam Farms is a legacy that has been carried on for generations. We are not just a farm, but a team of passionate new-age entrepreneurs turned farmers who believe in continually delivering high quality and best value proposition. Other reasons to choose us
SOCIAL RESPONSIBILITY
HMS Varenyam Farms takes on social responsibility to help farmers get their due rights. We work towards building a bridge that connects farmers directly to the customers.


TRADITIONAL YET MODERN
Vedic Practices have always had the best outcomes, and although we have seen a modernization in agricultural practices, nothing compares to the traditional approach of doing things.
SUSTAINABILITY
Sustainability is always at the core of everything that we do at our farms, right from plantation to harvest & herding cows to delivering milk product; we try doing it as thoughtfully possible.


NATURAL PRODUCE
In today's times, when farm production is optimized using chemical pesticides & fertilizers, We at HMS Varenyam Farms believe in using natural and sustainable products and practices.
VISION WITH A MISSION
We're on a mission to protect & revive the extinction of Desi Gir A2 Cow species through our in-house breeding program. We also aim to cultivate more & more naturally grown tasty farm produce vegetables and fruits.


COMPASSION AND DEDICATION
Every person living and working on the farm believes in compassion and dedication. We leave no stones unturned to maintain the quality of our products.
Vision
Improving the quality of life by unlocking nature's true potential naturally
Mission
To blend the latest farming & dairy technologies and traditional Vedic methodologies to achieve our vision.
History
Late Mr. Manharlal Motichand Shah, AKA MM Shah, was a farmer by heart. He was always connected to the soil and looked out for the wellbeing of other farmers as well. As a country and state-level award winner holder in Chikoo and Mango category, he taught farmers how to use technology and implement it with the best natural farming practices.
Development
Continuing the legacy that Late Mr. M.M. Shah has built, Mr. Hemant Shah & Mrs. Brinda S. Shah are currently overseeing the management & development of the farm.
Mr. H.M. Shah's love to protect and save Desi Gir cows made him venture into the dairy industry by starting a Gir cow farm. Through this cow farm, he wants to spread the awareness and benefits of consuming A2 milk, Ghee, and other dairy products.
An animal lover by heart, he takes a lot of care for every cow on his farm and keeps them healthy and happy. While today, the farm is into the production of A2 Milk and Ghee, the plan is soon to start production of A2 Paneer & Cheese.
Dedicated Team
Our team of dedicated farmers is people who have been with us for generations. They have a good knowledge of traditional farming practices, and at the same time, they are also well-equipped to use the latest technologies.
Every fruit or dairy product from the farm reflects the endless dedication, labour, and love the workers have towards their soil. Moreover, every fruit from the farm undergoes a stringent grading process to ensure the consumer gets nothing but the best.